#BreakTheBias: Standing together to create a more equal world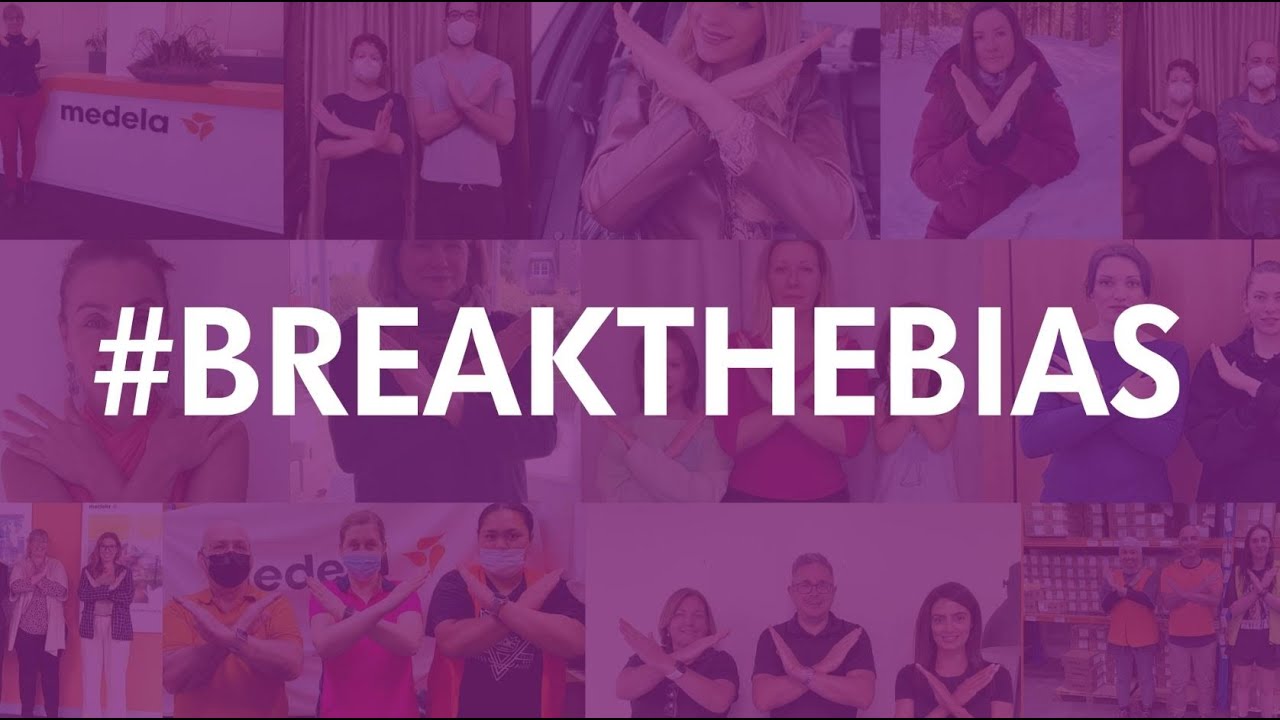 In alignment with this year's campaign theme #BreakTheBias, Medela is celebrating International Women's Day, joining this year's efforts to stand together in support of creating a gender-equal world, where gender stereotypes, discrimination and prejudice don't exist. A world that is diverse, equal and inclusive. A world where differences are valued and celebrated.
Empowering women and girls is critical to increasing economic growth and promoting social development. However, to date, gender inequality still exists everywhere today and is an obstacle to social progress, with women remaining underrepresented in political and private sector leadership positions at all levels.1,2,3
In fact, the promise of a gender equal world is probably even further away than before, as women and girls have been disproportionately impacted by the COVID-19 crisis, through loss of jobs and reduced working hours, risking reversing some of the progress made on gender equality in G20 labour markets in recent years. 4,5
Let us stand together to leave the world a better place for all
At Medela, we want play a key role in supporting and empowering women and gender equality within our organization and beyond – and we are on track already:
Gender distribution

60% of the Medela workforce is female and 46% of the leadership team are women. By 2025, we want to achieve 50% gender diversity in our leadership team.

Employer of choice

Introduction of new flexible work schedules and remote and mobile work policies in 2020 across the globe for improved flexibility and work-life balance
External recognition for gender-equitable salary practices in 2021
Focused training and development opportunities to support employees' individual journeys

Strong commitment to new parents

Offer of extended our parental benefits offering 16-weeks paid parental leave for all Medela U.S. employees, regardless of hourly status and gender
Helping new parents successfully transition back to work after baby with our pumps, services and empowerment through specific partnerships around the globe, like the New Mom Healthy Returns program for employers in the U.S. or Bring Women Back to Work (BWBW), a collaboration with Sales Force in Switzerland.
As a member of the UN Global Compact, Medela is committed to a more equal, diverse and inclusive world as part of the UN Sustainable Development Goals. Aligned with the 2025 goals to foster a company culture based on equality, diversity and inclusion, the Medela Cares focus areas are:
Inclusive Leadership Programme: In a 12-month programme, Medela leaders will be coached on building a global and diverse network while exploring aspects critical to inclusive leadership.
Diversity, Equity and Inclusion Training Programme: Medela is empowering 50 "DE&I Agents" around the globe who will be acting as change agents and will assist in developing diversity, equity and inclusion programme initiatives, such as TED talks and specific training on key topics.
Recruitment process: Medela is further redesigning its recruitment process to ensure greater sustainability, recognise a more diverse workforce and enable inclusive leadership, starting in Switzerland
Together, we are working to make a lasting impact in the lives of families and patients around the world. And we believe by focusing on diversity, equity and inclusion, Medela is contributing to leaving the world a better place for all.
For more information, see our Medela Cares goals by reviewing our annual Communications of Progress report