Deciding when & how often to express human milk in the immediate postpartum period
In this webinar we discuss maternal-neonatal risk factors where expression of human milk should be implemented in the first 3 days of life to support an optimal milk supply.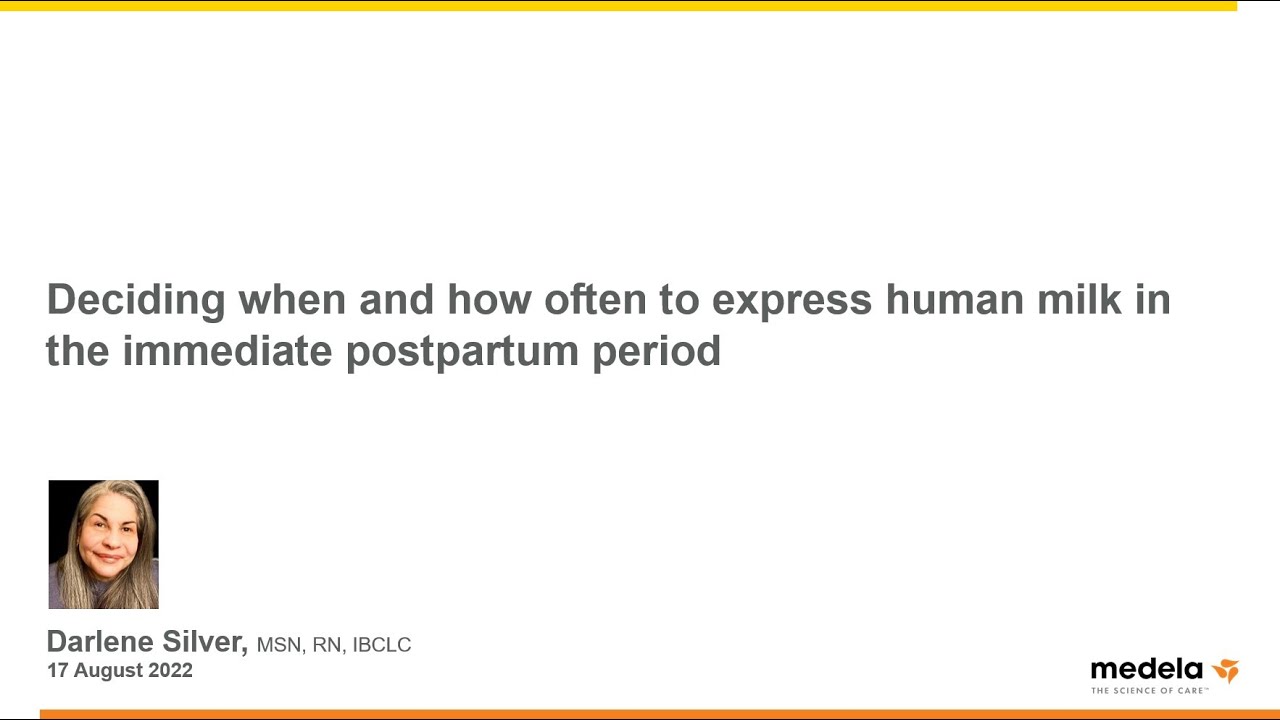 Wednesday, 17 August 2022
Discussion on the development of a decision-making tree or algorithm designed to support members of the healthcare team when a Lactation Consultant may not be readily available.
Learning objectives
Identify dyads where initiation of expression would be beneficial within the first hour of life.
Identity dyads where initiation of expression would be beneficial in the first 1-3 days postpartum.
Identify questions members of the healthcare team should consider when deciding to recommend expression in the first few days postpartum.
Apply risk factors and targeted questions to develop a user-friendly decision tree healthcare providers and professionals can utilize in their practice setting.
Event details
Date 17 August 2022
Duration 1 hour
Time 20:00 – 21:00 Central European Summer Time (13:00 – 14:00 Central Standard Time)
Presenter
Darlene Silver, MSN, RN, IBCLC
Darlene Silver MSN, RN, IBCLC is a native of Perth Amboy, New Jersey and currently resides outside of Washington, DC. In 1987, she earned a Bachelor of Science in Nursing from the University of Texas, Health Science Center at San Antonio. Upon graduation, she was commissioned in the United States Air Force and selected for an Obstetrical Nurse Internship Program. After completing her military training and internship, Darlene was assigned to Wright Patterson Air Force Base Medical Center where she developed a solid foundation in perinatal nursing and leadership.
After serving, Darlene returned to the Washington, DC area where she began working as a clinical nurse. In 2002, she became an internationally board-certified lactation consultant (IBCLC) and in 2004 she earned a Master of Science in Nursing with a concentration in Nursing Education. She has been a faculty member and guest lecturer at three area colleges and universities. While a faculty member at Bowie State University, she collaborated on grants with the State of Maryland, the University of Maryland Baltimore, and Johns Hopkins University. These grants focused on nursing faculty development and increasing the number of nursing students from underserved communities.
Darlene has also served on the Board of Directors for three non-profit organizations. Two focusing on increasing the number of students from underserved communities to pursue careers in nursing, medicine, healthcare and STEM professions, and one providing community based residential care and services to individuals and families with long-term mental health challenges in Prince George's County.
For over 35 years, Darlene has primarily focused on the health needs and care of women, infants and children, as well as nursing education with a commitment to working in underserved communities. She is in the process of re-opening her private practice while exploring innovative ways to provide lactation support to families in a post-pandemic environment, including telehealth. She continues to consult with providers, healthcare professionals and healthcare organizations regarding best practices related to lactation support, as well as mentoring Lactation Consultants and Lactation Interns.
She fervently believes in community service and regularly volunteers in community-based activities sponsored by local, state and national organizations dedicated to health and wellness. In her spare time, she enjoys reading, writing, cooking, textile arts, painting, walking, hiking and quality time with her two amazing sons, family and friends.