Helping all families make informed feeding choices
On February 26, 2022, the World Health Organization (WHO) and the United Nations Children's Fund (UNICEF) released a key report on the 55-billion-dollar formula industry and its negative impact on breastfeeding decisions. This webinar highlights key findings of the report and provide clinicians with tools to teach families why human milk matters. It is critical that families are presented with scientific evidence about the differences between human milk, donor milk and infant formula.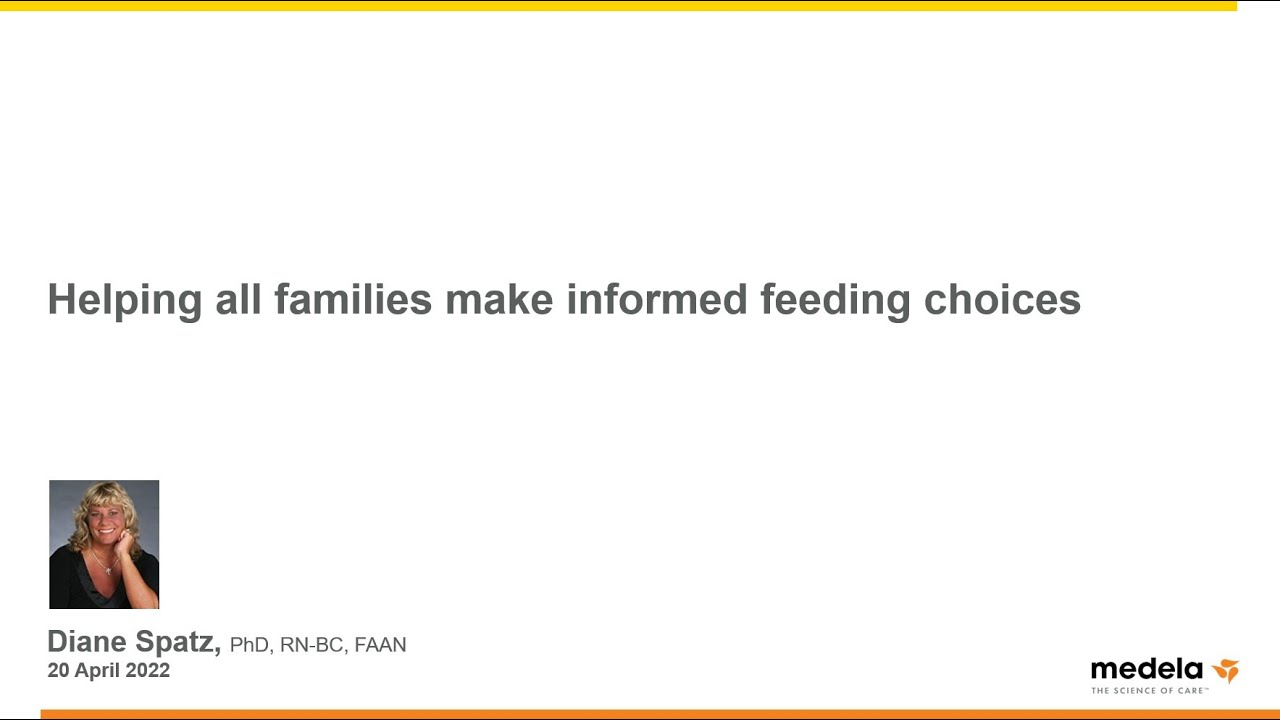 Wednesday, 20 April 2022
Learning objectives
Discuss findings of the WHO & UNICEF report about formula marketing
Describe why human milk is superior to donor milk and formula
Be able to articulate methods to share scientific evidence with families
Event details
Date 20 April 2022
Duration 1 hour
Time 20:00 – 21:00 Central European Summer Time (13:00 – 14:00 Central Standard Time)
Presenter
Diane Spatz, PhD, RN-BC, FAAN
Diane L. Spatz, PhD, RN-BC, FAAN is a Professor of Perinatal Nursing & the Helen M. Shearer Professor of Nutrition at the University of Pennsylvania School of Nursing sharing a joint appointment as a nurse scientist in lactation the Children's Hospital of Philadelphia (CHOP) in the Center for Pediatric Nursing Research and Evidence Based Practice. Dr. Spatz is the Founder of the CHOP Mothers' Milk Bank.
Dr. Spatz is an active researcher, clinician, and educator who is internationally recognized for her work surrounding the use of human milk and breastfeeding particularly in vulnerable populations. Dr. Spatz has been PI or co-investigator on over 60 research grants, included several from the NIH. She has authored and co-authored over 210 peer-reviewed publications and written numerous book chapters related to human milk and breastfeeding. Dr. Spatz has authored or co-authored position statements for the International Lactation Consultant Association, the Association of Women's Health Obstetric & Neonatal Nursing (AWHONN), the Society of Pediatric Nurses (SPN) and the National Association of Neonatal Nurses. She has also written the clinical practice guidelines on human milk and breastfeeding for AHWONN and SPN as well as a technical brief for the USAID on human milk and breastfeeding in developing countries.
In 2004, Dr. Spatz develop her 10-step model for human milk and breastfeeding in vulnerable infants. This model has been implemented in NICUs throughout the United States and other countries worldwide (Thailand, India, China, Mexico, Japan, Chile). Dr. Spatz has been named a prestigious "Edge Runner" for the American Academy of Nursing related to the outcomes of her model. Her nurse driven models of care are critical in improving human milk & breastfeeding outcomes and thus the health of women and children globally. Dr. Spatz is the only PhD prepared nurse appointed to the Congressional Task Force on Research Specific to Pregnant Women and Lactating Women. Dr. Spatz has also been appointed to a World Health Organization Task Force on human milk and milk banking globally. Dr. Spatz was elected to the Executive Committee of International Society of Research in Human Milk and Lactation in April 2020.
Dr. Spatz is also the recipient of numerous awards including: the Lifetime Achievement Award from the National Association of Neonatal Nurses, the Research Utilization Award from Sigma Theta Tau International and from the University of Pennsylvania: the Dean's Award for Exemplary Professional Practice, the Expert Alumni Award and the Family and Community Department's Academic Practice Award She is also the recipient of the Lindback Award for Distinguished Teaching. Dr. Spatz received the Distinguished Lang Award for her impact on scholarship, policy & practice. In 2019, Dr. Spatz received AWHONN's Distinguished Researcher Award and was named Nurse of the Year by the Philadelphia Inquirer.
In the university portion of her job, she teaches an entire semester course on breastfeeding and human lactation to undergraduate nursing students and in the hospital portion of her job, she developed the Breastfeeding Resource Nurse program. Dr. Spatz is Past Chair of the American Academy of Nursing's Expert Panel on Breastfeeding and their representative to the United States Breastfeeding Committee.