How to protect breastfeeding and human milk donation in difficult times: lessons learned in Europe and Asia
Humanitarian crisis affecting European countries has given us a sense of how little is known about how to provide breastfeeding support to mothers and newborns during challenging times. Natural disasters and civil conflicts are indeed difficult situations to predict. However, having a comprehensive set of rules and policies based on well documented cases can play a crucial role in preparing the local healthcare system to protect breastfeeding during difficult times and as a result, to save many lives. More than ever, there is also an urgent need to raise awareness about the benefits of using donor milk under such challenging situations.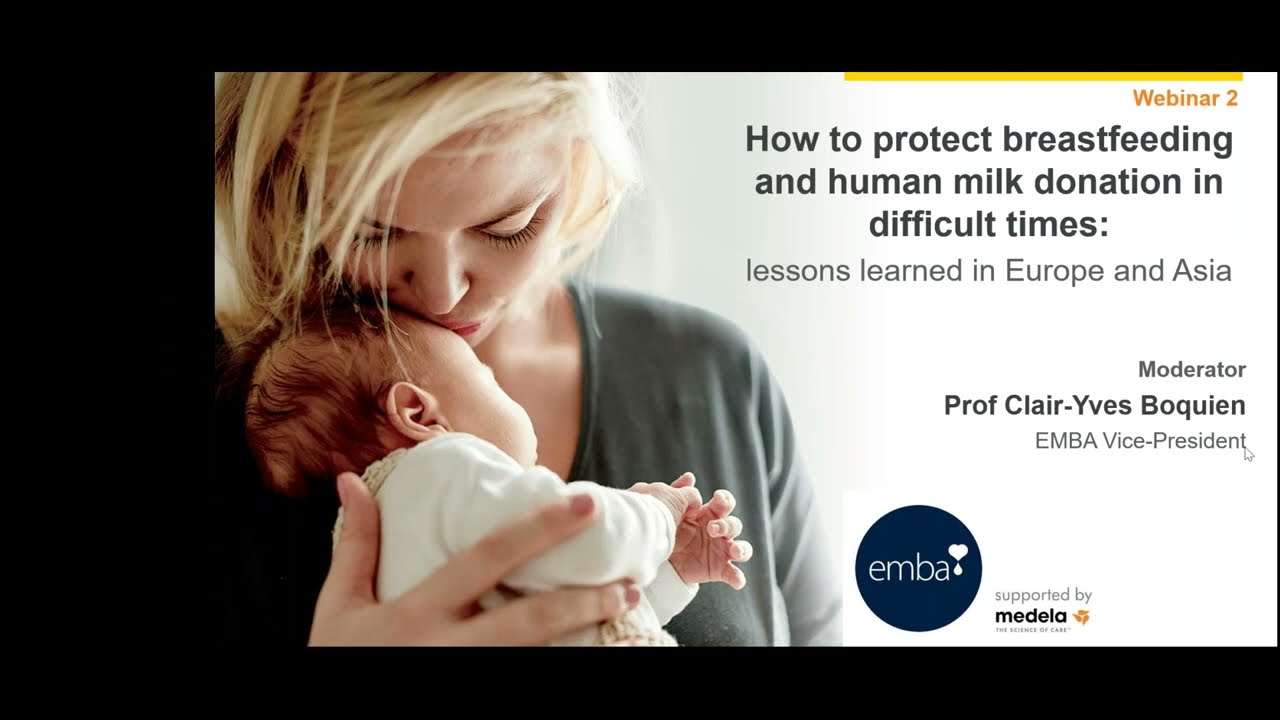 Wednesday, 12 October 2022
Join this webinar to learn from first-hand experiences about how local professionals support Ukrainian women and babies in Polish lactation centres and in hospitals, as well as the related enlightening case of humanitarian aid for mothers and infants who were victims of natural disasters in the Philippines.
Learning objectives
Introduction about the need of a solid set of rules and policies to support breastfeeding mothers and newborns during emergencies
Lessons learned in Poland (Europe) and Philippines (Asia) about how to support and protect breastfeeding and provide donor milk in hospitals during humanitarian crises.
Event details
Date 12 October 2022
Duration 1:40 hour
Language English
Time 15:00 – 16:40 (Central European Summer Time)
Presenters
Aleksandra Wesolowska, Professor Medical University of Warsaw. Head of The Laboratory of Human Milk and Lactation Research, Holy Family Hospital, Warsaw, Poland
Aleksandra Wesolowska, Ph.D. is Assistant Professor in the Department of Medical Biology at Medical University of Warsaw and Head of The Laboratory of Human Milk and Lactation Research at the Regional Human Milk Bank in the Holy Family Hospital also in Warsaw, Poland. She is the President of the Human Milk Bank Foundation since 2009 when the promotion of human milk banking in Poland was initiated. In 2012, she set up the first fully equipped laboratory in Poland with human milk bank resources to focus on the research of human milk and the care of mother and child. She has been a member of the Board of European Milk Bank Association since 2014 and also a member of the Scientific Advisory Board of the UK Human Milk Bank (UKAM) since 2021. Dr Wesolowska is actively involved in humanitarian aid to Ukraine and she is currently implementing principles of Infant and Young Child Feeding in Emergency as a part of the Polish Refugee Response plan.
Agnieszka Chrobak, Ph.D, Biotechnologist, Hirszfeld Institute of Immunology and Experimental Therapy, Wroclaw, Poland
Agnieszka Chrobak, Ph.D is a biotechnologist and a scientific researcher at the Hirszfeld Institute of Immunology and Experimental Therapy in Wroclaw, Poland as well as an instructor in Fertility Diagnosis Methods. She is also the Coordinator of the Clinical Department of Oncological and Procreation Gynecology of the 4th Military Clinical Hospital in Wrocław, Poland and co-creator of the model center of reproductive health at the Specialist Hospital Antoniego Falkiewicza in Wrocław. In response to current crisis, Dr Chrobak is actively supporting Ukrainian health workers in their integration into the Polish system.
Estrella J. Olonan-Jusi, MD, MPM
Estrella J. Olonan-Jusi, MD, MPM is a Medical Specialist III in the Department of Pediatrics, Dr. Jose Fabella Memorial Hospital in Manila, Philippines. She is a Pediatrician in Adolescent Medicine and President of the Human Milk Bank Association of the Philippines. Dr Estrella J. Olonan-Jusi is working in Southeast Asia and international collaborative networks beyond to ensure maintaining safety and service provision in human milk banking in response to the Covid-19 pandemic.