Protecting the Mother-Baby Dyad During the COVID-19 Pandemic: The Columbia University Experience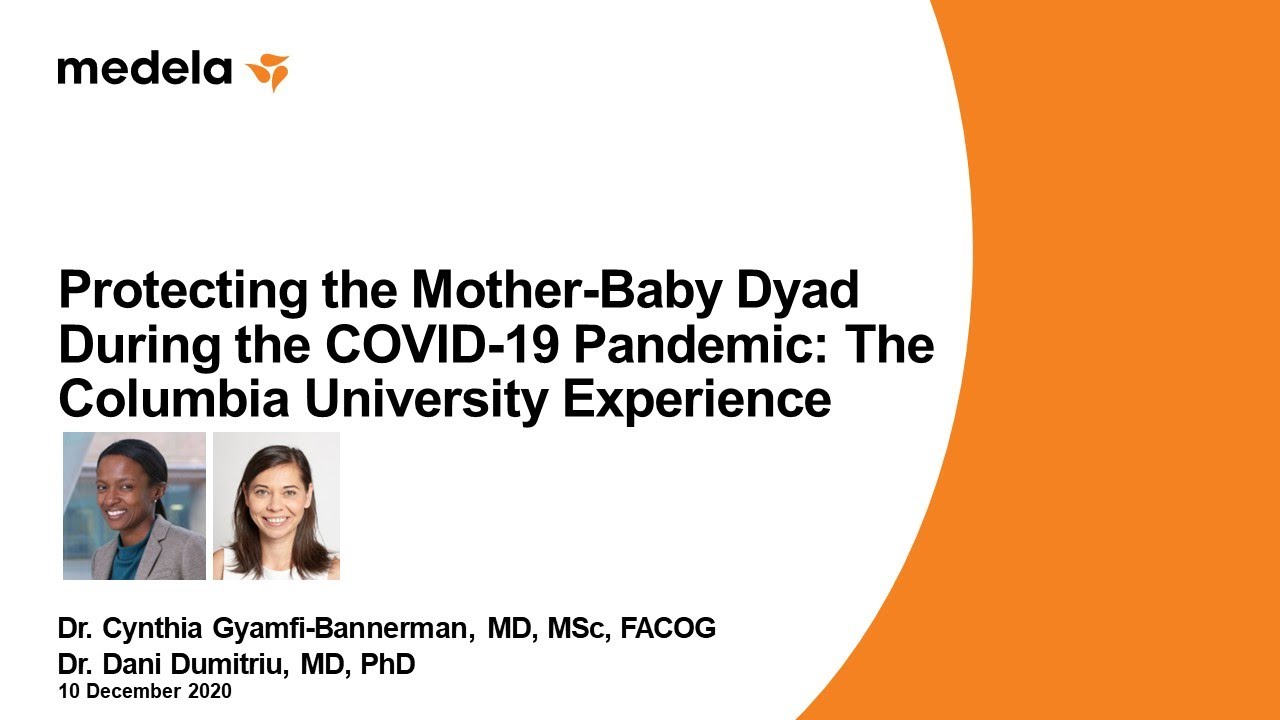 Thursday, 10 December 2020
Time:

07:00 - 08:00, PDT, San Francisco
09:00 - 10:00, CT, Chicago IL
10:00 - 11:00, EDT, New York
15:00 - 16:00, BST, London
16:00 - 17:00, CEST, Berlin
17:00 - 18:00, MSK, Moscow
18:00 - 19:00, GST, Dubai
19:30 - 20:30, IST, Mumbai
Abstract:
Dr. Gyamfi-Bannerman, a high-risk obstetrician, and Dr. Dumitriu, a new-born hospitalist, were frontline workers as the COVID-19 pandemic swept New York City. Being part of the New York-Presbyterian, the largest health care system in New York City, they personally cared for one of the largest populations of SARS-CoV-2 labouring mothers and their new-borns at a time when little was known about vertical and perinatal transmission, best practices for this vulnerable population, or long-term consequences on the mother-child dyad. In this webinar, they will discuss their experience, including rapid mobilisation to generate one of the first large datasets on vertical transmission. They will also show some of their ongoing work in the COVID-19 Mother Baby Outcomes (COMBO) study, a large multidisciplinary initiative that follows exposed mother-baby dyads to look at numerous physical and mental health outcomes.
Learning Objectives
Rooming in for mum and baby is safe even for mothers that have severe disease as long as basic precautions are taken
Breastfeeding following hand and breast hygiene with soap and water is safe and potentially protective for the baby
Early bathing of new-born is not necessary and might be harmful given known risks of hypothermia, hypoglycaemia, and interference with breastfeeding
Presenters
Dr. Dani Dumitriu, MD, PhD
Dani Dumitriu, MD, PhD, is a Pediatrician and Neuroscientist dedicating 80% effort to uncovering the neurobiological mechanisms for resilience in both animal models and humans, and 20% to caring for newborns in the Well Baby Nursery (WBN) at Columbia University Irving Medical Center (CUIMC). As a scientist, her NIH-funded research program focuses on understanding the developmental origins of resilience in the DOOR lab, of which is she Principal Investigator. The DOOR lab is uncovering functional and neuroanatomical differences in inbred mice that are stress-susceptible versus stress-resilient, with the ultimate goal to "reverse engineer" resilience and pioneer developmental neuroprevention: a preventative toolkit that will protect and enhance resiliency in children. Inspired by her clinical work in the WBN, Dr. Dumitriu also has a research program focused on newborn health. During the height of the COVID-19 pandemic in New York City, she was the frontline "COVID attending" in the WBN at CUIMC. In May, 2020, she spearheaded an interdisciplinary collaborative effort: the COVID-19 Mother Baby Outcomes (COMBO) initiative. This study seeks to understand the long-term impact of the COVID-19 pandemic and prenatal exposure to SARS-CoV-2 infections on babies and their mothers. The initial focus was to describe the risk of vertical transmission, which was found to be low. Currently, the focus is to understand the impact on broad measures of physical and mental health, including socioemotional functioning, neurodevelopmental trajectory, risk of asthma, breastfeeding practices, growth, and much more. Almost 100 researchers, physicians and students are involved in this initiative. The goal of COMBO is early identification of potential risks for which we can develop interventions.
Cynthia Gyamfi-Bannerman, MD, MSc, FACOG
Columbia University Irving Medical Center Vice Chair for Faculty Development

Ellen Jacobson Levine and Eugene Jacobson Professor of Women's Health in Obstetrics and Gynecology

Director, Maternal-Fetal Medicine Fellowship Program Co-Director, Columbia University Preterm Birth Prevention Center

Principal Investigator, Maternal-Fetal Medicine Units Network
Dr. Gyamfi is board certified in both Obstetrics/Gynecology and Maternal-Fetal Medicine. As a Maternal-Fetal Medicine (MFM) specialist, she focuses on obstetric complications with a primary focus on preterm birth prevention. However, she also focuses on gestational diabetes, preeclampsia and thrombophilias in pregnancy. Her clinical practice includes caring for high risk patients, performing detailed ultrasounds and procedures for prenatal diagnosis. She is the Director of the Maternal-Fetal Medicine Fellowship Training Program, where she oversees the training and development of future MFM physicians.
Dr. Gyamfi is also a proficient, NIH-funded researcher working on multiple clinical trials. As lead PI, she recently completed the multi-center, randomized ALPS trial designed to improve neonatal outcomes in infants of women at risk for late preterm birth. This paper is now published in the New England Journal of Medicine. A long-term follow-up to this study is underway. She also conducts research in the areas of preterm birth, antenatal corticosteroids, preeclampsia, CMV, and genetic determinants of neonatal respiratory morbidity related to preterm birth. Her Masters of Science degree in Biostatistics allows her the opportunity to run analyses on existing or developed datasets and provides a unique insight into clinical obstetric research. She is the PI of the Maternal-Fetal Medicine Units Network at the National Institutes of Health and has numerous publications in the area of prematurity, antenatal corticosteroids, thyroid disease, and Jehovah's Witness care.
Aside from her clinical and research endeavors, Dr. Gyamfi served as a member of the Board of the Society for Maternal-Fetal Medicine (SMFM). She served as a member of the SMFM Publications Committee, a national group of highly-regarded MFM specialists who write guidelines on clinical practice for MFM-subspecialists; and was a founding member of the SMFM Research Committee. She has been selected as a faculty member for the annual NICHD conference directed at stimulating research interests and collaboration between MFM and Neonatal fellows-in-training on various occasions, and she has served as the Chair of the AAP/Abbott sponsored Santa Fe conference for Neonatal and Perinatal Fellows. As MFM Fellowship Director at Columbia University, she oversees the training of 9 fellows, making this one of the largest training programs in the country. She has been invited to speak about her research locally, nationally, and internationally; and she is a member of AGOS.
Dr. Gyamfi's special interests include epidemiology and biostatistics as well as maternal and obstetric complications of pregnancy including prevention of preterm birth, diabetes in pregnancy, antenatal corticosteroids, chronic hypertension, thrombophilias, and anemia.
Event Details
Date:
Duration:
Time:
07:00 - 08:00, PDT, San Francisco
09:00 - 10:00, CT, Chicago IL
10:00 - 11:00, EDT, New York
15:00 - 16:00, BST, London
16:00 - 17:00, CEST, Berlin
17:00 - 18:00, MSK, Moscow
18:00 - 19:00, GST, Dubai
19:30 - 20:30, IST, Mumbai
This webinar is fee of charge