Understand the psychological impact of a NICU hospitalization and perinatal loss on parents
NICU parents are at a higher risk for Perinatal Mood Disorders, which can impede their ability to bond with and care for their medically fragile infants. While psychological interventions exist, many barriers exist to providing early intervention support for NICU and bereaved families.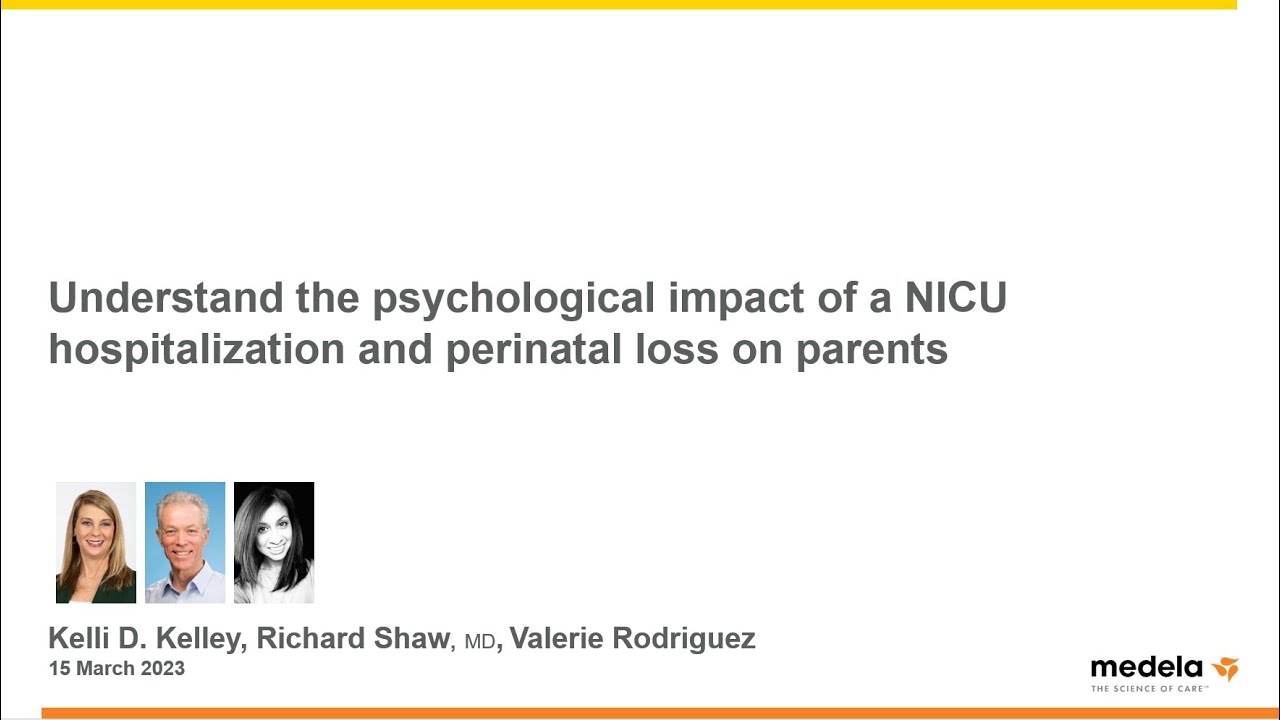 Wednesday, 15 March 2023
Join NICU graduate and bereaved mom Valerie Rodriquez; Kelli Kelley, Founder of Hand to Hold; and Dr. Richard Shaw, Professor of Psychiatry and Pediatrics at Stanford University School of Medicine and Author of Treatment of Psychological Distress in Parents of Premature Infants: PTSD in the NICU, for an intimate discussion of the trauma and devastating long-term impact a preterm birth, NICU stay, and/or loss of a baby can have on families. Learn how you can help advocate for better outcomes for NICU babies by ensuring their parents have access to early, free, trauma-informed support services.
Learning objectives
Review the new World Health Organization recommendations for the care of preterm or low birth-weight infants.
Learn about psychological interventions in the NICU currently available.
Why early intervention support for NICU parents matters to ensure better outcomes for NICU graduates.
Event details
Date 15 March 2023
Duration 1 hour
Time 20:00 – 21:00 Central European Time (13:00 – 14:00 Central Standard Time)
Presenters
Kelli D. Kelley
Kelli D. Kelley is the Founder and CEO of Hand to Hold, a national non-profit organization dedicated to providing education and support for Neonatal Intensive Care Unit and bereaved families. A NICU graduate parent who suffered from psychosocial issues for years after her children's early births, she now invests her time and talents to raise awareness about the high incidence of anxiety, depression and post-traumatic stress disorder among these parents and the long-term implications for the baby and family.
Kelli serves as Vice President of the board of directors of the National Coalition for Infant Health, as a parent expert for the AAP TECaN Advocacy Campaign of NICU family mental health, and is a founding member of the NICU Parent Network. She is a past President of the Austin chapter of the Association for Women in Communications, now Women Communicators of Austin, and a graduate of Leadership Austin.
Kelli received a Bachelor of Journalism degree from The University of Texas at Austin. Kelli lives in Austin, TX with her husband and long-haired, diva dachshund. In her free time, she enjoys reading, listening to podcasts, and keeping up with her NICU graduates, who are now in college.
Richard Shaw, MD
Richard Shaw, MD. is a Professor of Psychiatry and Pediatrics at Stanford University School of Medicine and Medical Director of the Pediatric Psychiatry Consult Service at Lucile Packard Children's Hospital at Stanford. He completed his adult psychiatry residency training at Albert Einstein College of Medicine, Bronx, New York, and a child psychiatry fellowship at Stanford University Medical Center.
Dr. Shaw's research interests include studying psychological stress in children with physical illness and their parents, including parents of premature infants. He has authored three textbooks, including the second edition of the Clinical Manual of Pediatric Consultation-Liaison Psychiatry, which American Psychiatric Publishing published in 2019. His recent book, Treatment of Psychological Distress in Parents of Premature Infants: PTSD in the NICU, was published in 2020.
Valerie Rodriguez
Valerie Rodriguez is a doting wife, dedicated mom, and a beloved friend, and she takes pride in her high school special education teacher in Frisco, Texas. Valerie, her husband Robert, and her three children live in Prosper, Texas.
Valerie delivered twin boys at 23 weeks' gestation in 2018. Valerie and her husband said a heartbreaking goodbye to one of their sons, Cristiano, just 22 minutes after his birth, and their other son, Cruz, spent 296 days in the NICU before being released with full-time 24-hour in-home medical care.
Valerie is passionate about using her story and experience to help families navigate the unimaginable pain of perinatal and neonatal bereavement and address the often-unspoken difficulties of having a child in the newborn intensive care unit. Valerie is an advocate for not only her family but those who face similar situations. Valerie is also a Vice President of Praying Through Ministries, providing Biblical support and encouragement to families.