Racial disparities in maternal health outcomes: Strategies to narrow the gap
Encourage, motivate, and inspire others to take on similar initiatives to address racial disparities in maternal health care and implement quality and safety measures to improve outcomes for pregnant and post-partum women.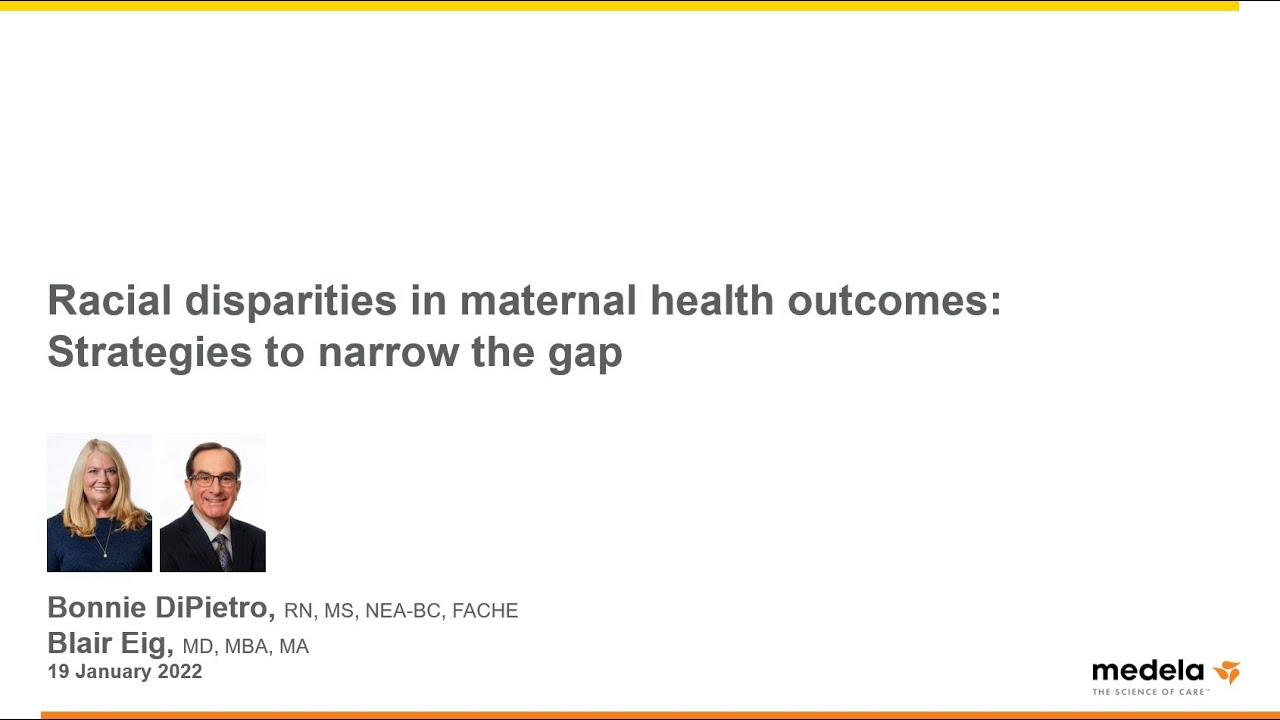 Wednesday, 19 January 2022
Learning objectives
Describe the scope of the racial disparities in maternal health morbidity and mortality in the United States
Discuss state level data and the improvement efforts to reduce peripartum racial and ethnic disparities
Identify one state's strategies to improve maternal health disparities and outcomes
Event details
Date 19 January 2022
Duration 1 hour
Time 20:00 – 21:00 Central European Time (13:00 – 14:00 Central Standard Time)
Presenter
Bonnie DiPietro, RN, MS, NEA-BC, FACHE
Ms. DiPietro has more than 40 years of healthcare experience, holding clinical, educational, management and executive positions throughout the Baltimore-Washington metro area. She holds both a Master of Science degree in Nursing Administration and a Bachelor of Science (nursing) degree from the University of Maryland. She is active in many local and national professional organizations, including The American Organization of Nurse Executives, Maryland Organization of Nurse Leaders, The Maryland Chapter of the American College of Healthcare Executives, the Maryland Association of Healthcare Quality and Sigma Theta Tau, the National Honor Society of Nursing. In her role at the Maryland Patient Safety Center she provides coordination of all the Center's collaboratives, education and conference offerings and serves as manager of day to day operations for the organization.
Blair Eig, MD, MBA, MA
Blair Eig is currently the President and CEO of the Maryland Patient Safety Center, the nonprofit Patient Safety Organization designated by the State of Maryland. He was previously the Chief Medical Officer for 19 years for the Holy Cross Health system, the Maryland Region of Trinity Health. Prior to that he practiced primary care pediatrics for 14 years in Silver Spring Maryland. Blair is a native of Maryland and received a bachelor's in biology and biochemistry and a master's in biochemistry from Brandeis University. He received his medical degree from Harvard Medical School and his master's in business administration from American University. He completed his pediatric residency and chief residency at Children's National Medical Center in Washington, DC. Blair is a Clinical Professor of Pediatrics at the George Washington University School of Medicine. He has previously been the President of the Medical Staff at Children's National, the Chair of the Laboratory Advisory Committee for the State of Maryland, the Board Chair for the Maryland Healthcare Education Institute, and a member of the Executive Committee of the Maryland Hospital Association.