Hitting the target – Transitioning the NICU baby from trophic feeds to feeding at the breast
In this webinar we discussed the breastfeeding journey of the very low/extremely low birth weight baby in the NICU.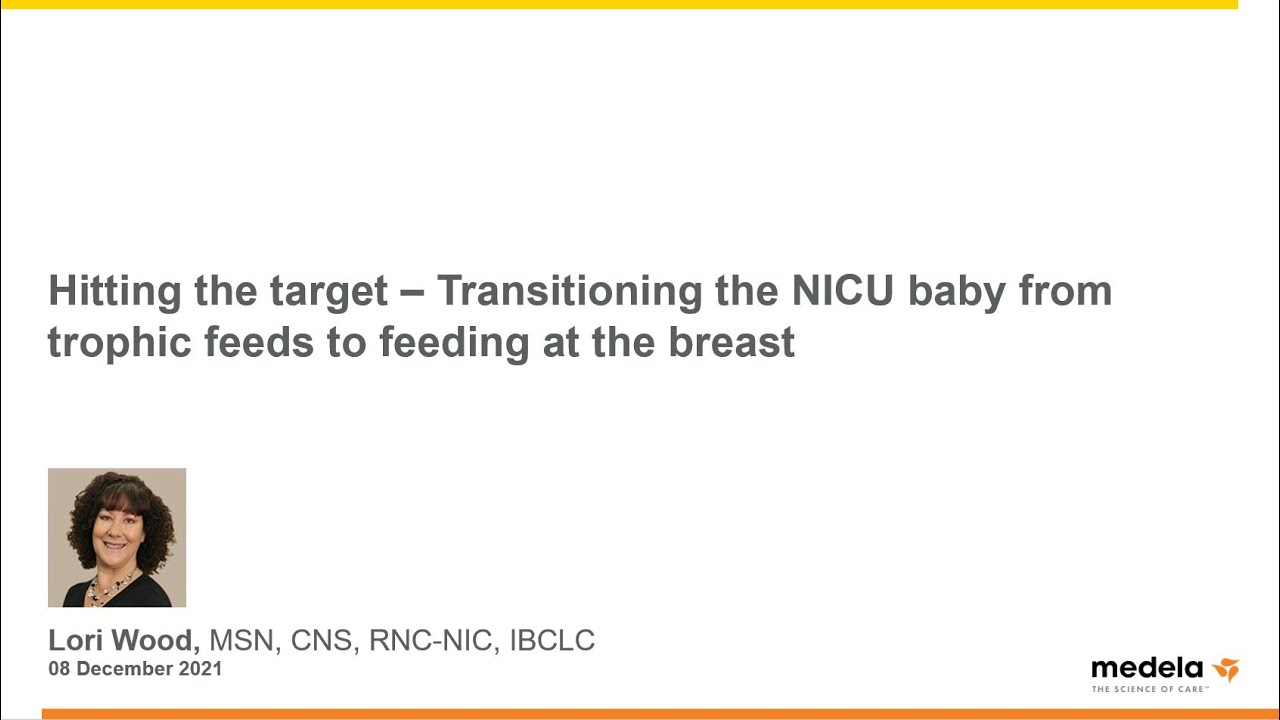 Wednesday, 8 December 2021
We will discuss the breastfeeding journey of the very low/extremely low birth weight baby in the NICU. Breastfeeding for these tiny babies starts at birth. Early oral care with colostrum, skin-to-skin care, early and consistent exposure and time at the mother's breast, infant-driven feeding, and prioritization of at-breast feeding will be discussed. Discussion on engaging mother, family, NICU staff and providers to create an environment and culture of breastfeeding inclusiveness and support of exclusive human milk will be infused throughout this presentation.
Learning objectives
Verbalize what "breastfeeding" looks like at various stages of the Neonatal stay

During respiratory support with no feedings or early trophic feedings
During the initiation of Cue based feeding
As baby is gaining competence in feeding
When baby is preparing for discharge

Discuss the needs of the extremely low birth weight infant while transitioning from gavage to at-breast feeding
List two breastfeeding positions that can be useful when feeding an extremely low birth weight infant at the breast
List differences in the oral suction of a baby when feeding at the breast vs feeding from a bottle
Event details
Date 8 December 2021
Duration 1 hour
Time 20:00 – 21:00 Central European Time (13:00 – 14:00 Central Standard Time)
Presenter
Lori Wood MSN, CNS, RNC-NIC, IBCLC
Lori Wood is a Neonatal/Pediatric Clinical Nurse Specialist at Desert Regional Medical Center in Palm Springs, CA. A neonatal nurse for 36 years, Lori began her career as a bedside neonatal nurse for 10 years before moving into a Clinical Manager position and has been in her current role since 2010. Lori has been certified in Neonatal Intensive Care Nursing since 1990 and is also an International Board Certified Lactation Consultant. Sharing her passion for mentoring, nursing as a profession, and restoring health to mothers, babies and families is of importance. Promoting the use of human milk in the NICU and sharing evidence-based knowledge is a primary focus. Lori participates in numerous community based groups promoting breastfeeding and the use of human milk, neonatal nursing, and nursing education and professionalism.